I was never a huge fan of stuffed peppers. I wouldn't say no to eating one, but the idea of making them has never appealed to me. The 'effort to reward' ratio was just a little off. That is, until I came up with this easy recipe for Old Fashioned Stuffed Bell Peppers.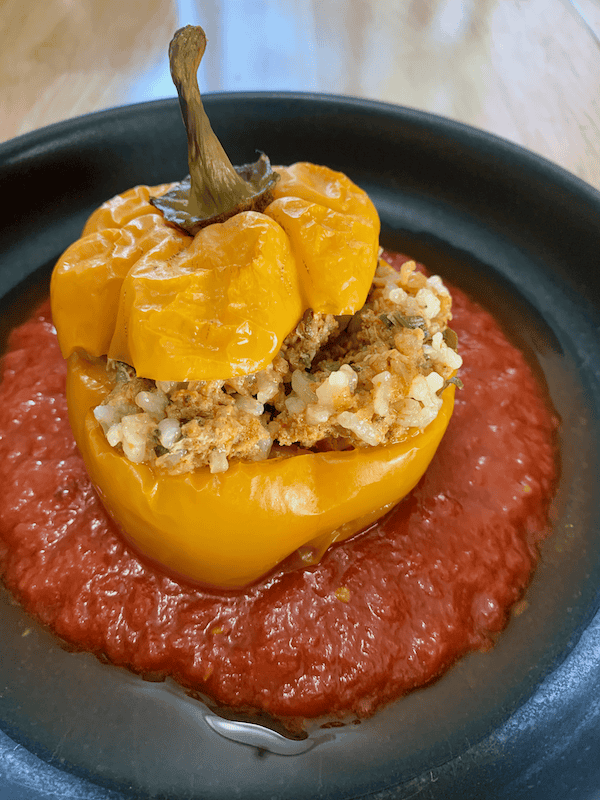 What's so great about these Old Fashioned Stuffed Bell Peppers?
Most of the stuffed bell pepper recipes I come across follow a similar format. Cook the rice, then brown the meat, then mix those together with spices, stuff the pepper, then cook the stuffed peppers. I prefer using a streamlined method where the only cooking that takes place happens inside the bell pepper itself. 10 minutes of up-front effort, followed by a lot of passive oven time.
With all those extra steps out of the way, these Old Fashioned Stuffed Bell Peppers are great to make any night of the week. Plus, you can eat them hot or cold, making them great for packed lunches. This recipe scales up really easily too, so it's a great option if you're having people over for dinner.
What you need to make these Stuffed Bell Peppers
The only cooking equipment you need for this recipe is an oven-proof container deep enough to keep the bell peppers standing up straight. I've used a stainless steel sauté pan, I've also used a Dutch oven. The peppers need to be covered while they bake, but you can use a lid or a piece of tinfoil. Whatever you've got handy.
Stuffed Bell Pepper ingredients
Bell Peppers – Any colour will do, but I tend to avoid the green ones for this particular recipe
Rice – Short grain is preferable as it helps the mixture hold together
Lean ground pork – Because we're not cooking this ahead of time, using fatty pork would give you a greasy pepper
Onion – For flavour and juiciness
Garlic – Can you imagine a stuffed pepper without it?
Parsley – For a little freshness
Spices & seasonings – Paprika, cumin, savoury, salt, garlic powder (optional)
Stock – Any kind of stock will do. Water will also do!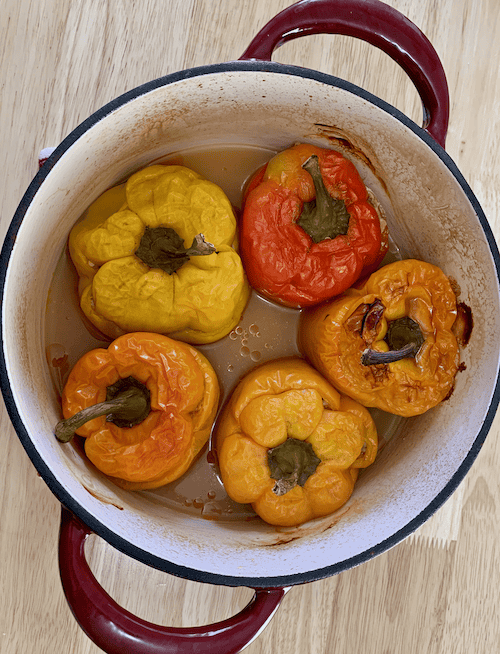 How to make these Old Fashioned Stuffed Peppers
This is the best part. These stuffed peppers are so quick to assemble.
Preheat the oven to 450 degrees F.
Grate the onion and garlic into a bowl.
Add the raw ground pork, raw rice, spices, chopped parsley, and stock, and mix well with your hands. The mixture will be quite wet, which is what you want, because the rice is going to suck up that moisture as it cooks.
Cut the tops off of of the peppers and clean out the ribs & seeds. You'll need 4 large peppers or 5 small ones.
Spoon the pork mixture into the peppers, being careful not to overstuff them. The mixture will expand a bit as it cooks.
Place the peppers upright in your oven-proof dish. Pop the pepper lids back on, and add 1/2 inch of boiling hot water to the dish. Put the lid on the dish (or cover with foil) and place it in the oven for 45-60 minutes. *See the success tips section for more information about cooking time!
Take the lid off and finish these peppers off. They just need another 25 minutes uncovered to get brown and bubbly.
Serve the peppers with a simple tomato sauce or a yogurt sauce. Enjoy!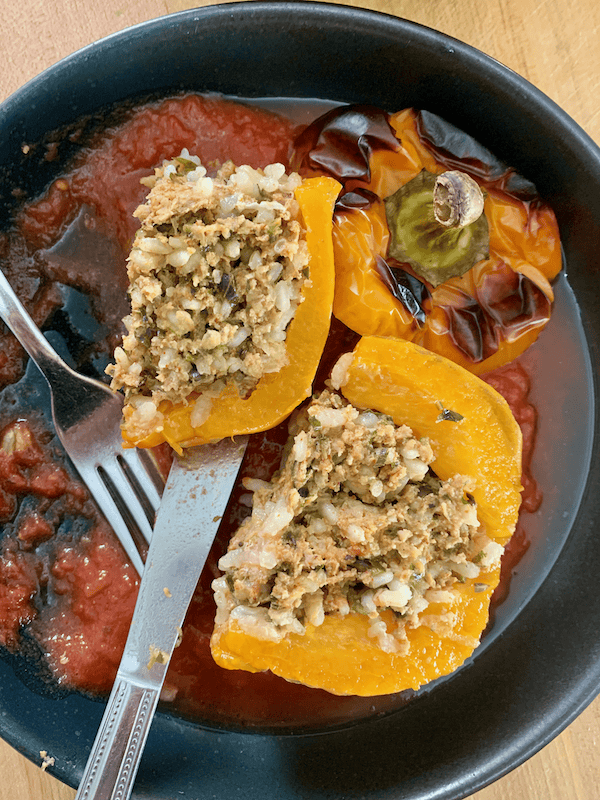 Storage, freezing, and reheating tips
I don't recommend freezing these peppers but I do recommend making enough to last a few days in the fridge. You can reheat the leftovers in the microwave, but I prefer eating them cold. You choose!
Success tips
The cooking vessel affects the cooking time
When I make these peppers in a sauté pan covered in foil, they take the full 60 + 25 minutes to cook. When I make them in my Dutch oven, they tend to only need 45 + 25 minutes. This makes sense, because Dutch ovens are very good at retaining and conducting heat. The inside of those suckers gets real hot! For best results, if you're using a Dutch oven, check the internal temperature of the peppers after 45 minutes. If the internal temp is 190-200F, you can take the lid off and bake them for an additional 25 minutes uncovered.
In the video, I baked them for the full 60 + 25 minutes in my Dutch oven. And as you can see, they came out great, but the peppers were very soft. Adjust the cooking time if you are using a Dutch oven and are not into extremely well-cooked peppers.
Short grain rice is key!
One of my favourite qualities about these stuffed peppers is how the mixture holds together. It makes it feel like the pepper and the filling are one harmonious thing. Short grain rice is starchier and stickier than long grain rice which really helps bind the mixture.
Lean pork (or whatever meat you use) is important
Because this whole mixture cooks inside the pepper, there is no opportunity to drain the grease off of the meat. Using regular ground pork here would likely cause the filling to be too greasy. I haven't tested these peppers with other meats yet, but I have a hunch they would be great with lean ground turkey, beef, or even tofu. I'm hesitant to suggest Beyond meat because it is quite greasy for a meat-free option!
Grate the onion for optimal texture!
Not only does grating the onion ensure that you don't end up biting into any large chunks of firm onion, it also creates a lot of extra moisture for the rice to absorb. Pureeing the onion in a food processor is also an option.
I hope you give these peppers a try, and I hope you like them! I've been making them a ton lately since they're an all-in-one dinner and they're so low-fuss. Let me know if you make them by tagging me on Instagram.
Enjoy!
Looking for more simply cozy dinner ideas? Check these out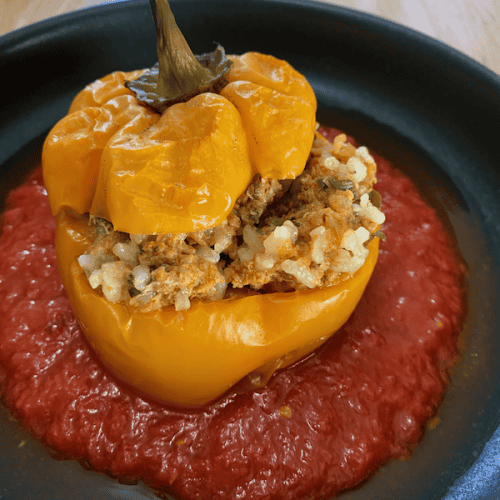 Old Fashioned Stuffed Bell Peppers Recipe
This is a streamlined recipe for stuffed bell peppers. Minimum effort delivers maximum results. They're perfect any night of the week.
Ingredients
4-5

bell peppers (any colour)

250

grams

lean ground pork (1/2 lb)

1

onion (medium)

3

cloves

garlic

50

grams

short grain rice (1/4 cup)

10

sprigs

Fresh parsley (2 Tbsp chopped)

125

ml

stock or water (1/2 cup)

1

tbsp

paprika

1/2

tsp

ground cumin

1.5

tsp

salt

1

tsp

garlic powder (optional)
Instructions
Grate the onion and garlic into a bowl

Add the raw ground pork, raw rice, spices, chopped parsley, and stock, and mix well with your hands. The mixture will be quite wet, which is what you want, because the rice is going to suck up that moisture as it cooks

Cut the tops off of of the peppers and clean out the ribs & seeds. You'll need 4 large peppers or 5 small ones

Stuff the pork mixture into the peppers being careful not to overstuff them. The mixture will expand a bit as it cooks

Place the peppers upright in your oven-proof dish. Pop the lids back on, and add 1/2 inch of boiling hot water to the dish. Put the lid on (or cover with foil) and place them in the oven for 45-60 minutes. *See the success tips section for more information about cooking time!

Take the lid off and finish these peppers off. They just need another 25 minutes uncovered to brown the peppers

Serve the peppers with a simple tomato sauce or a yogurt sauce
Video
Nutrition
Calories:
234
kcal
Carbohydrates:
24.1
g
Protein:
13.7
g
Fat:
10.1
g
Saturated Fat:
0.1
g
Sodium:
880
mg
Potassium:
354
mg
Fiber:
3.2
g
Sugar:
7.6
g
Calcium:
34
mg
Iron:
2
mg