Although the ancient Greeks did a lot of impressive things, there's a good chance they get a bit too much credit for salad. The fact that we call any mixture of tomatoes, cucumbers, onions, peppers, and feta "Greek Salad" is a bit of a misnomer. In reality, some version of this salad is a staple all the way along the Mediterranean, into Eastern Europe and the Balkans.
I love Greek salad. When I worked at a Greek restaurant as a teenager, where that's all I would eat. I love the juicy tomatoes, the crunchy cucumbers and of course the Feta. The best part though? The juice that forms at the bottom of the plate. Give me a chunk of bread and THAT JUICE and I'm a very happy camper.
And don't even get me started on the two Kalamata olives perched on top. I always save those for last.
Recently, I've been made aware of another very similar kind of salad. It's basically the same, with a few little tweaks that make it special.
It's called Shopska salad, and it's 100% Bulgarian.
My partner is Bulgarian, and he's the one who introduced me to this salad. At our house, we eat Shopska.
The importance of peak season produce
As with any regional food, there are going to be differences. For example, Greece is famous for its olive oil, Bulgaria is famous for its sunflowers. So, it's more common to use sunflower oil in that part of the world. 
One thing that every region of all the best food countries can agree on is the importance of peak season produce. There are no two ways about it. When you want to make a top notch salad, you need to use the best ingredients you can get. And the best ingredients means the freshest and most in-season ingredients as humanly possible. 
Time to bust out the best tomatoes
When you want to make Shopska salad, Greek salad, or any other tomato-forward salad, don't mess around with off-season tomatoes.
Seriously. Just don't do it. Don't make Shopska salad for a Christmas dinner.
In the cooler months, it's better to stick to cool weather veggies for salads. Some good options: try my kohlrabi salad with apple and dill, or my sesame miso slaw.
If you don't have any Bulgarian recipes in your repertoire yet, Shopska salad (or Shopska Salata) is a great one to start with. (These feta and egg stuffed peppers should be next on your list). The keys to a really good Shopska salad is to use the best tomatoes, the right amount of salt, top with lots of good creamy feta, and eat it right away. I'm not a fan of fridge-cold tomatoes and soggy cucumbers. I really think this salad is best when it's super fresh.
All you've got to do is toss everything together in a large bowl and dive in.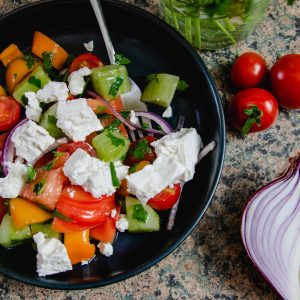 Shopska Salad
Shopska salad is a traditional Bulgarian salad that is loaded with the juiciest tomatoes and soft feta.
Ingredients
2-3 large tomatoes, or 500g

1 bell pepper, any colour but green

½ medium red onion

150

grams

crumbled or grated feta

4

Tbsp

sunflower oil

1

tsp

salt

Fresh Parsley (optional)
Instructions
Chop up all the veggies into bite sized cubes. Toss with oil and salt, and top with feta and fresh parsley. Serve immedietely.
Nutrition